The 10 Best Plugins for SEO on WordPress (And Some to Avoid)
This page/post may contain affiliate links.  As an Amazon Associate, as well as an affiliate of other programs, this means if you purchase something using these links, I will receive a commission on qualifying purchases at no cost to you! For more detailed information, please visit our Affiliate Disclaimer page
Everywhere you look, there's a new plugin. And different advice about which you absolutely need.
We've broken down (with advice from some of the biggest SEO and WordPress experts out there) to give you a list of what you need, what you might want to add and which plugins to stay away from.
Plugins for SEO
RankMath (superior to Yoast)
Rank Math is what we use and now considered one of the most powerful WordPress SEO plugin on the market. One of the best SEO plugins for your WordPress site.
It pulls off the rare feat of being feature-packed and user-friendly. There's even a setup wizard that guides you through the installation process, and it has the nicest UI of the bunch.
So what does it have that Yoast and the other competitors don't have?
Google Search Console integration

Redirection (301, 302, 307, 410, 451)

Rich snippets markup (14 types).

Card previews for Facebook and Twitter

and it is FREE
It also has a 404 error monitor, which looks for visitors hitting 404 (dead) pages and then lets you know the URLs and number of times they've been hit.
You can visit our post on Rank Math vs Yoast for more information on what features Rank Math gives you for FREE!
Google recommends breaking long pieces of content into logical sections with associated on-page anchors. This remains one of the best SEO plugins to help with user experience – an important Google ranking factor.
"Ensure that long, multi-topic pages on your site are well-structured and broken into distinct logical sections. Second, ensure that each section has an associated anchor with a descriptive name (i.e., not just "Section 2.1"), and that your page includes a "table of contents" which links to the individual anchors."
That's what these plugin do—they add a table of contents to your posts and pages to make them easier to navigate.
Here's what it looks like in action: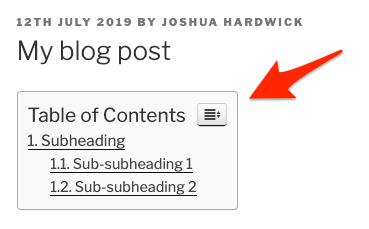 Because a table of contents makes long pages less daunting, it can have a positive knock-on effect on SEO and improve things like time on page, bounce rate, and dwell time.
It can also help you win jump links in the SERP, which may increase your CTR.

As for the plugins themselves, they are super customizable.
You can choose precisely where it gets inserted, the types of headers (H2, H3, etc.) to be included in the anchors, and also whether it appears on all pages or just some.
If you don't have access to a paid service such as Ahrefs, you'll need a way to check your site for broken links.
The Broken Link Checker looks for broken links on your website—both internal and external.
If it finds any, it tells you the HTTP status code (e.g., 404, 410), anchor text and source of the link. That makes it easy to find and fix.
Because the plugin runs in the background all the time, it can continuously check for broken links and alert you by email should any pop-up.
But perhaps the best feature is that you can fix links in a couple of clicks, and in bulk.
For example, here's a broken link that the plugin found on my website. If I click "unlink," then the dead link will be removed from the post.
Perhaps even more useful is the fact that it suggests replacement links, and you can swap out the dead link for a working one in one click—without ever having to dig into the post itself.
It also tells you about 301 redirects, and there's also an option to fix those in bulk by replacing the redirect link with the final destination URL.
So, what's the downside?
Unfortunately, the plugin can slow down your website and use a lot of bandwidth. It's not something that we would recommend running if you have super cheap or slow hosting. In fact, one user reported losing around 20% of his traffic when running the plugin—presumably because it has a negative effect on site speed for other users.
So your best bet is to run it every now and again and then deactivate in between.
We keep hearing about how Google is ranking faster sites higher. Short Pixel will compress images on your site to help with speed.
Shortpixel compresses and optimizes the images on your website.
Because images are usually the slowest files to load when someone visits your site, image optimization can have a noticeably positive effect on page speed.
It's super easy to use. Just install, choose your settings, and then it will automatically optimize and serve any images you upload in the future.
Compression options available are lossy, glossy, and lossless, and it supports Retina 2x images.
It works with JPG, PNG, GIF, PDF documents. There's an option to convert to WebP, although that seems a bit hit and miss currently.
For existing images, there's a bulk image optimizer. Run that, and it'll optimize all images already on your site in line with your settings.

Shortpixel gives you 100 free credits per month. My site (Sue) is image heavy so I do pay for extra image credits, when needed.
EWWW Image Optimizer is your best bet if you're looking for a completely free alternative. It is not as robust as ShortPixel, but will certainly help over using nothing to compress images.
Using A3 Lazy Load is a simple plugin for enabling lazy-loading of images.
Enable this, and images outside the viewport (visible area on the screen) won't get loaded until they become visible upon scrolling. This improves page speed, which, to reiterate, is a ranking factor.
For the most part, it works out of the box. Just install and activate.
If you want to exclude certain pages from lazy-loading images, that's possible in the settings.
6) WPSupercache
Caching is critical if you want your website to load as fast as possible.
What is caching? Here's the best explanation we've found and it's from Ahrefs:
"Normally, each time a browser requests a web page, the server has to do a bunch of complex (and time-consuming) calculations. It retrieves the latest posts, generates the header and footer, finds your site's sidebar widgets, and so on. However, in many cases, the result of all these calculations will be exactly the same. Wouldn't it be great, then, if we could simply make the server remember the final result, instead of processing each request separately? This's exactly what caching does!"
What WP Super Cache does, then, is create static HTML versions of all the dynamic content on your website. It then serves those pages to visitors instead of the slower-loading dynamic versions.
The end result is the same, but web pages are served faster. It's a win-win. For most users, enabling the basic caching functionality is enough.
Autoptimize minifies, compresses, and caches scripts and styles (i.e., CSS, Javascript, HTML, etc.).
Ultimately, it helps speed up your website.
It also integrates with Shortpixel to optimize and convert images to WebP format, which are then cached and served from Shortpixel's global CDN to make things even faster. (This is entirely optional. Just select the checkbox in the settings to enable).
There's also lazy-loading functionality built-in, and an option to optimize how Google Fonts are loaded.

HTTPS is a ranking factor, so it's crucial that you have SSL in 2020.
LetsEncrypt offers SSL certificates for free, and a lot of hosts support this initiative. But installing an SSL certificate isn't all you need to do. You also need to permanently redirect the HTTP version of your site to the HTTPS version.
Really Simple SSL makes this, well… simple. Just install, and check the box in the settings.
It can also help fix mixed content (i.e., when both secure and unsecure content is loaded over SSL) on your site, which is a common problem when making the switch. Once again, all you have to do is check a box.
If you aren't sure if your site is SSL secure, you can enter your site url on this page to confirm.
If you need help directing to an SSL site, our membership program can help with this.
Akismet checks your comments and contact form submissions against our global database of spam to prevent your site from publishing malicious content. You can review the comment spam it catches on your blog's "Comments" admin screen.
Major features in Akismet include:
Automatically checks all comments and filters out the ones that look like spam.
Each comment has a status history, so you can easily see which comments were caught or cleared by Akismet and which were spammed or unspammed by a moderator.
URLs are shown in the comment body to reveal hidden or misleading links.
Moderators can see the number of approved comments for each user.
A discard feature that outright blocks the worst spam, saving you disk space and speeding up your site.
Since many comments include spammy backlinks, this will help with SEO, as well.
PS: You'll be prompted to get an Akismet.com API key to use it, once activated. Keys are free for personal blogs; paid subscriptions are available for businesses and commercial sites.
While not a true plugin (there are included plugins in the service), the blog fixer will automatically fix any typewriter errors, follow and no follow links, Amazon link compliance and so much more. For a low monthly fee, this has been on of the best investments on my website to-date (Sue).
If you need addition technical help with anything from plugins to speed, we highly recommend Grayson from imarkinteractive.
WordPress Plugins We Don't Recommend:
It is a huge and heavy plugin that slows down your site. You have all you need with Google Analytics and Google Search Console. It is not a recommended plugin for SEO.
2) Backup plugins
Most hosting providers offer backups. No need to add a slow plugin for this. Check, first with your hosting provider
Online Media Masters has a great list of Plugins that may be slowing down your site, as well.
With as many plugins there are out there, we couldn't possibly include them all, but if you start with the list above, you will be sure to have the most needed, highest-performing recommended WordPress plugins for your site.